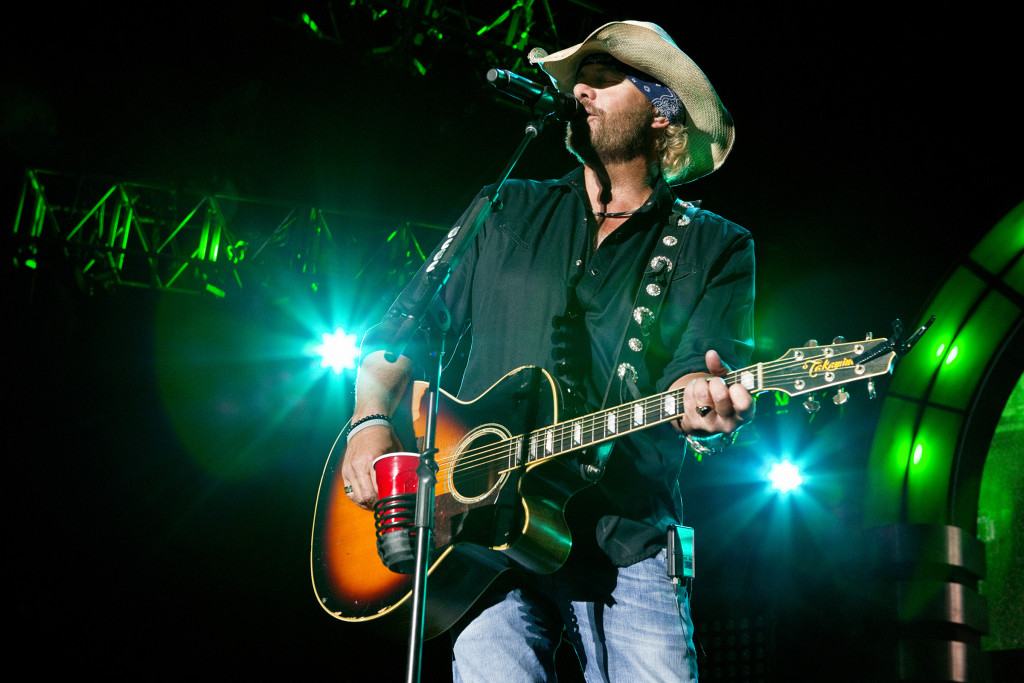 (NASHVILLE, Tenn.) As if being honored with the prestigious Arnie Award at the AT&T Pebble Beach Pro-Am wasn't enough, singer, songwriter and entertainer Toby Keith also sank a nearly 40-foot-long putt on what has become his favorite hole at the fabled course. With the shot, he birdied on his third round at the 15th hole, where he made a similar shot last year. Paired with pro Steve Stricker, he followed the shot with a robust celebration, later calling the 15th his "lucky hole."

In a full-circle moment for Keith, he and Stricker shared a tee time with Colt Ford and pro Jason Dufner. Not only did Ford and Keith play AT&T in previous years, Ford also opened Keith's 2015 tour and the two wrote "Back In The 405." The song is one of four new tracks on Keith's 2019 release Greatest Hits: The Show Dog Years, which also includes the acclaimed "Don't Let The Old Man In."

That song was inspired by Clint Eastwood and is featured in his film The Mule. Engelbert Humperdinck has released a performance of "Don't Let The Old Man In" that was included on his 2019 EP Reflections. And Willie Nelson has recorded a cover of it for his upcoming album, First Rose of Spring, due April 24. Keith says, 'Through the years I've always enjoyed the many times I've gotten to share a guitar, a stage, or a song with Willie. It's truly an honor anytime he records one of my songs. 'Don't Let The Old Man In,' he killed it. Yeeeehaw."
And speaking of "405," Keith wore a hat sporting the Oklahoma City area code during the tournament. Full circle, indeed.
Next month, Keith circles around to the 20th anniversary of his song "How Do You Like Me Now?!" reaching No. 1 for the first of five consecutive weeks on March 18. In May, Keith celebrates the 20-year anniversary of the single release "Country Comes To Town," for which his 2020 tour is named (see dates below).

Those 20 years saw incredible milestones, chart success and awards. Billboard named him the Top Country Artist and Songwriter of the Decade in 2009. For the decade ending last year, he made Billboard's top 10 for radio airplay. And performances of his music on commercial radio stations worldwide crossed the 95 million threshold, keeping his place as BMI's Top Terrestrial Radio Country Songwriter of all time. He was inducted into the Songwriters Hall of Fame in 2015.

As for the Arnie Award, given annually by Golf Digest to golfers who give back, the honor is reflective of Keith's longtime commitment to helping sick children and their families in his native Oklahoma City. The 17th annual Toby Keith & Friends Golf Classic benefiting The Toby Keith Foundation and OK Kids Korral will be held later this year at his own Belmar Golf Course located, of course, in the 405.

Toby Keith's Country Comes To Town Tour:
(more dates announcing soon)

May 1 Hertz Arena Estero, FL
May 2 Suwannee River Jam Live Oak, FL
June 4 Adirondack Bank Center Utica, NY
June 5 Summer Stage at Tag's Big Flats, NY
June 6 Northwell Health at Jones Beach Wantagh NY
June 19 MetraPark Center Billings, MT
June 20 Budweiser Events Center Loveland, CO
June 21 Country Jam Colorado Grand Junction, CO
June 25 Country USA Oshkosh, WI
June 26 Heartland Stampede Topeka, KS
June 27 NebraskaLand Days North Platte, NE
July 10 Salinas Sports Complex Salinas, CA
July 11 Nugget Event Center Sparks, NV
July 16 LaPorte County Fair LaPorte, IN
July 18 Freedom Fest Fort Polk, LA
July 23 Bismarck Event Center Bismarck, ND
July 24 Bell MTS Place Winnipeg, MB
July 25 Country on the Bay Thunder Bay, ON
August 8 Ashley for the Arts Arcadia, WI
August 9 Jackson County Fair Jackson, MI
August 16 Illinois State Fair Springfield, IL
September 3 Allentown Fair Allentown, PA
September 4 Bank of NH Pavilion Gilford, NH
September 5 Mohegan Sun Uncasville, CT
September 6 Hard Rock Atlantic City, NJ