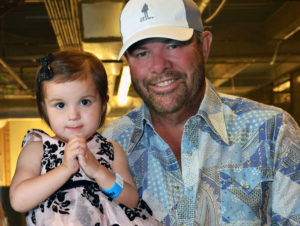 Lauralyn Hull & Toby
The 15th Annual Toby Keith & Friends Golf Classic raised more than $1,090,000 earlier this month at Belmar Golf Club and Riverwind Casino. Among the top five totals in the event's history, this year's funds will continue the good work of OK Kids Korral, which provides a cost-free home to children and families seeking treatment at Oklahoma City area hospitals.
The event opened with a Friday night gala featuring performances by Mac McAnally ("All These Years"), Paul Overstreet ("When You Say Nothing At All"), Jamey Johnson ("Give It Away"), Scotty Emerick, and Red Steagall. All the artists joined a rousing rendition of Keith's "Weed With Willie." Restless Heart concluded the night of entertainment, taking the stage for a full set.
As for the evening's live and silent auctions, the latest "Denim & Diamonds" themed gathering set a new mark. For the first time, each of the top three live auction items was awarded to both of the top two bidders.
Top Five Live Auction Items
1. Hunting trip with Navy SEALS ($55,000 x 2)
2. Golfing with John Daly ($37,500 x 2)
3. Real Housewives experience with Vicki Gunvalson ($26,000 x 2)
4. "American Soldier" original lyrics and art ($40,000)
5. Elvis Presley autographed guitar ($32,000)
Top Five Silent Auction Items
1. Tickets, dinner, limo to NBA's Oklahoma Thunder ($10,000)
2. Jack Nicklaus, Arnold Palmer autographed Masters piece ($5,500)
3. Walking Dead Lucille bat autographed by Jeffrey Dean Morgan ($5,500)
4. Boston Red Sox experience ($4,700)
5. Star Wars replica Stormtrooper autographed by cast ($4,000)
Attendees included Olympic gold medalists Mike Eruzione (1980 hockey team) and Bart Conner (gymnast), basketball great Nancy Lieberman and OU women's head coach Sherri Coale, NFL greats Ray Childress (Houston Oilers) and Walt Garrison (Dallas Cowboys), former MLB pitchers Kevin Gross and Brad Penny, actor/musician/poet Red Steagall and actor Buck Taylor (Gunsmoke).
All in, Toby Keith & Friends events have raised $12.4 million to build and operate OK Kids Korral. Learn more about the event and OK Kids Korral at www.tobykeithfoundation.org.