NORMAN, Okla.) The 15th Annual Toby Keith & Friends Golf Classic will host a small constellation of sports and entertainment celebrities June 1-2 at Belmar Golf Club and Riverwind Casino in Norman, Oklahoma. Beyond Friday evening's gala and Saturday's shotgun-start golf tournament, the "Denim & Diamonds" themed event will boast one of its deepest auction item offerings to date.

Among the attendees will be:
-Olympic gold medalists Mike Eruzione (1980 hockey team) and Bart Conner (gymnast)
-Basketball great Nancy Lieberman and OU women's head coach Sherri Coale
-NFL greats Ray Childress (Houston Oilers) and Walt Garrison (Dallas Cowboys)
-Former MLB pitchers Kevin Gross and Brad Penny
-Actor/musician/poet Red Steagall
-Acclaimed recording artist and legendary CMA Musician of the Year Mac McAnally
-Former OU football coach Bob Stoops.

Auction offerings added to the previously announced and prodigious list include an item autographed by Green Bay Packers quarterbacks Aaron Rodgers, Brett Favre and Bart Starr; a Troy Aikman autographed football; a Dale Earnhardt, Jr. autographed helmet; a Team USA jersey signed by Mike Eruzione; an autographed helmet from Tim Tebow; a rare Cal Ripken, Jr. bobble head; and a signed item from the late Byron Nelson's famous US Open putt.

Entertainment items include a 1960's Sunset Tele Star Vintage guitar signed by the Rat Pack - Frank Sinatra, Dean Martin, Joey Bishop, Sammy Davis Jr. and Peter Lawford; signed guitars from Keith Richards and Chris Stapleton; and tickets to see a Season 15 live airing of The Voicein Los Angeles.

Experiences up for auction include weekly tickets to the 2018 PGA Championship at Bellerive Country Club in St. Louis, a private tour of NFL headquarters, a blue shark cave diving experience and multiple Oklahoma destinations including golf resorts (Shangri La on Grand Lake, Rock Creek Resort at Lake Texoma, Winstar World Casino, Quartz Mountain), a private penthouse for 20 at Remington Park and fine dining at Benvenutis. Other items range from jewelry from Mitchell's and Alexandra Jules to spa treatments from Best of Nichols Hills.


With such an amazing slate of auction items, this year's bidding isn't limited to attendees. Anyone can participate by registering via text - keyword "Toby2018" to 24700 - or visiting tobykeith.auction-bid.org. And it all benefits The Toby Keith Foundation's work on behalf of OK Kids Korral, a no-cost home for sick children and families seeking treatment in Oklahoma City.Over its 14 years, the Toby Keith & Friends Golf Classic has raised $11.3 million for an incredible average of more $800,000 per year.

Learn more about the event and OK Kids Korral at www.tobykeithfoundation.org.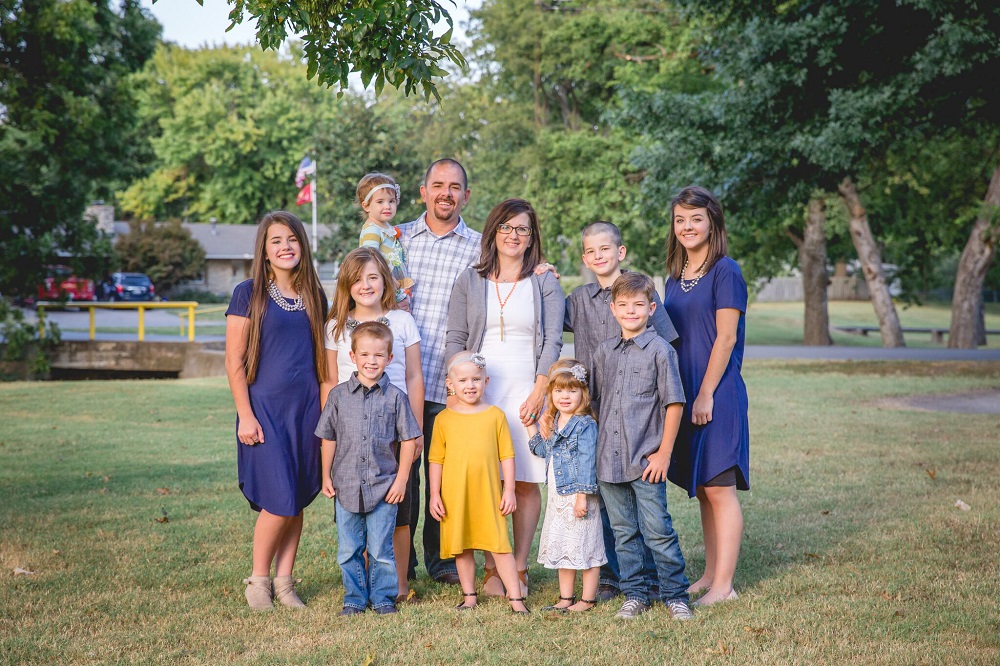 The Koons (l to r) Abigail, Alaythia, Adley, Eric (father), Goldie (mother), Andrew, Anista, Adoniram, Ashlyn, Avia, and Asher
"We have come to call the Korral our second home," says Goldie Koons, whose daughter has been through two battles with cancer. "Without the Korral in our life we would be in debt ... we would be scattered. Being able to stay together during treatments helps us keep it together emotionally, too. The love and generosity of all who are involved is humbling and amazing. It doesn't matter where a family is from or who they are, the Korral staff go above and beyond to be a blessing."