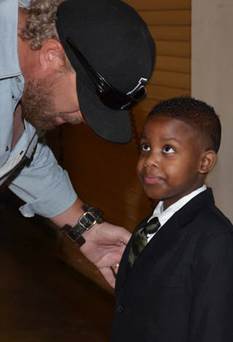 By Brandy McDonnell Published: June 20, 2016
NORMAN — He may not be able to cure cancer, but Toby Keith has spent more than a dozen years taking care of Oklahoma children battling it.
After more than 10 years of dreaming, planning and building, his Toby Keith Foundation's OK Kids Korral has been lodging families for about 2 ½ years, providing a no-cost home-away-from-home for pediatric cancer patients seeking treatment at OU Medical Center.
"When you go in and meet with these families, which I do, it's like they had no idea (what to do) when they got there. They were just desperate and immediately on the road to go take care of their kid. 'My kid's got a tumor, my kid's got cancer, my kid's got this, and I've got to find the best (care), where do I go?' They go to Oklahoma City. Boom. They get here, then they see their kid's taken care of, and then they start worrying about, 'OK, what supplies do I need? Did I bring deodorant, did I bring shampoo, have I got a razor, where are we gonna eat, where are we gonna stay?' " Keith said backstage at his recent "Denim & Diamonds" gala and dinner at Riverwind Casino.
"And they get there … and just all of a sudden they don't want for nothing. You need a Walmart card? Here you go. The kid's got toys. You wanna watch something in the theater, need a chapel? We've got food every day, people cooking, so you don't really need anything. We get you to and from the hospital, right across the street. It's just a beautiful thing."
The Norman-based country music star's 13th Annual Toby Keith & Friends Golf Classic and the associated "Denim & Diamonds" event earlier this month raised $1.175 million for the Korral, said his publicist, Elaine Schock.
It takes about $500,000 a year to operate the lodge as an all-inclusive, cost-free facility for the patients and their families, said Toby Keith Foundation Executive Director Juliet Nees-Bright. The OK Kids Korral features 12 overnight suites, four day rooms, a gourmet kitchen, spacious dining hall, theater room, indoor and outdoor playgrounds, a family resource center and more.
Nees-Bright said the Korral helps about 125 families a year, working with each family an average of five times during the year, with an average length of stay of five days. The lodge stays at about 80 percent occupancy, which is expected to edge closer to 100 percent by next year.
"We stay full a lot. We're never really overflowing where we gotta turn anybody away, but we're never really empty," Keith said. "We're just constantly, year around, servicing these families."
Keith talked at the charity event about the OK Kids Korral mission, how the community has supported it and how the courage of the families who stay there inspires people.
Q: This is the 13th year for this hometown charity event. What do you think about how this event has come along?
Keith: The event is the strongest moneymaker of the year. The thing that's grown in the last 10 years of it is the outside donations coming in. But this event raises the lion's share.
Q: Now that it's open and running, have you found that there's more and more people in the community supporting the OK Kids Korral?
Toby: Yeah, the most amazing part is the oil field has taken such a hit here, and we still got our mainstay people here. The people who've taken a big hit in the oil field who are struggling right now are still willing to say, "This is the one thing I'm still committed to." So, they're committed to me and my vision on this thing. …
You see those families and see how desperate and destitute they are when they show up at the hospital from Woodward or Vici or Atoka, and this is the worst day of their life, because they're having to come up and treat their kid, their pride and joy. And they get there … and it's great suites, great food prepared every day by volunteers, and they never pay for a penny of it. It's the best gift, I think, because I can't cure cancer and can't raise enough money to cure it. But I can take care of these people.
Q: It's something that gives them some comfort, I guess, during such a difficult time?
Keith: It's therapy alone that all the kids in there are the same: They're all sick. So, it ain't like going back to Woodward or Atoka and going to school and having to wear a bandanna because you've lost your hair because you're taking chemo. Every kid in there has got baldheaded. So, you're playing with your peers that are similar to you, and there's therapy in that. Kids are like, "All these kids I'm playing with and making friends with all look just like me," instead of them being the odd duck.
Q: So, there's a camaraderie that forms for these families?
Keith: Yeah, they pull for each other. … Each year, Juliet has an anniversary party, and whether people have lost kids or whether they got well and went and took 'em home, they all come back. Because when they live there for months, they get to know these whole families like brothers and sisters.
Q: The Korral was a dream of yours for many years. Has it lived up to everything you hoped it would be?
Keith: It's more than anything … but it's a pretty big undertaking. I've got, I think, three paid employees, and then we've got tons of volunteers — and they come from everywhere. … You can see results, and it makes it real easy for me to keep people loyal to it. And then they go in and see the families, and they're hooked. I mean, Sammy Hagar was bawling like a baby. …
The other night, Sammy Hagar was in town shooting a TV show, and he wanted to come to my house to do "Sammy's Rock & Roll Road Trip" for AXS TV. We're good friends, so Sam come and stayed the night, a couple days, and interviews me, played a couple songs. I take him to Hollywood Corners, I show him around Norman, and I said, "While you're here, let's go down and see the Korral." … So, we go in, and 10 minutes in, Sammy starts crying, wiping tears out of his eyes. And he was going, "This is the most amazing facility. Whatever you ever need from me, I'm in, whether it's money, to play, whatever you need me to do. I'm in."
Q: What are your future plans for it?
Keith: I would love to get it paid off and have enough donations coming in without this event to start another one. Maybe go to Tulsa or Dallas and build another one. Some big city. But I'd love for it to stay in Oklahoma.
Would you like to help? You can make a donation here!