07 October 2013
Check Out Toby's Cut by Cut Commentary of Drinks After Work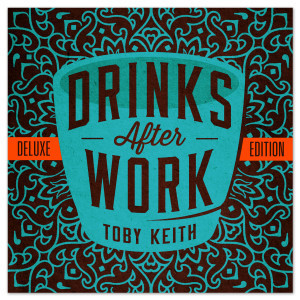 Produced by Toby Keith

1. Shut Up And Hold On
Toby Keith, Bobby Pinson

Bobby brought that to me and it was one of those songs. I didn't know if it was a single, but I knew it was kind of what we do live – it's fun and just feels like being in an amphitheater or at a festival. And if there's ever been a song that's bloomed in the studio, it's this. One of the last things we cut for the album, so I pushed it a little bit. We were messing around with the vocal and trying to get some different drum sounds. We got the groove where we wanted it and I started singing, but it was almost strange. It wasn't laying down quite like I had thought when we were writing. But when they sent me the mix I said, "Wow, that thing really took off." When people on the team heard it I started getting lots of text messages about how much they love it. It sort of rose from the ashes, but may end up being the second single.

2. Drinks After Work
Natalie Hemby, Barry Dean, Luke Laird

This one is just like second nature now, but the first time I heard it, it was a really cool song, I just didn't know if it sounded like me or if I could even pull it off. It's really out of the box for me and the first few times singing it in the studio I was really uncomfortable. You're reading off the sheet and trying to sing along with the band, but it wasn't where I normally go, vocally. I usually write everything and, if I go in with something I didn't write, I usually know we're going to have big success with it, but this one I didn't. We just wanted to cut it and see what happens. So this is another one that really bloomed. The scratch vocal after we cut it was just so-so. I got busy with other things, but they came back to me and said I still had to sing the thing and right there in the studio it just happened. Maybe I'd been away from it long enough, but we took a pretty good shot at it.

3. Before We Knew They Were Good
Toby Keith, Bobby Pinson, Rivers Rutherford

This one is along the lines of "Beers Ago." You just never know when you see kids around what they're going to be when they grow up. I'm sure there are a lot of people around my hometown who never would have thought that I'd be this successful. But when you look back at the combinations of things that happen in your life – a dad who's a sharp, witty, Will Rogers kind of very country guy, a mom that sings like Patsy Cline and their son whose sixth grade teacher tells them that he needs to stay with his creative writing because it was the best she'd seen in 13 years – that's a combustible mixture.

4. Little Miss Tear Stain
Toby Keith, Scotty Emerick

That's a tongue-in-cheek stab with a great line: "Would you like to just go and talk, or is never still a good time to call?" I don't know, probably pushing it a little too far as usual. It's a little more kiss-off than it is goodbye, but it's comical. It's got a great groove. I really, really like that song.

5. The Other Side Of Him
Toby Keith, Bobby Pinson

Somebody said that line in a conversation that wasn't pertaining to this subject matter, but it just sounded like a song idea to me. I started expanding it in my mind, then got with Bobby. We had to be creative finding a few ways "standing on the other side of him" could mean something. He lost her, she's at the wedding and he sees that everything he always wanted is standing on the other side of him. We're coming at it from two or three different angles. Good ballad. We had it up in a higher key than what we wrote it at, but when we got to the studio, it just didn't seem warm enough, so we just took it down. We wanted it to be really mellow.

6. Last Living Cowboy
Toby Keith, Scotty Emerick

This is the kind of stuff I wish would work on the radio. This reminds me of growing up, cutting your teeth in the Texas and Oklahoma beer joints and seeing these singer/songwriters come through – Red Steagall, Guy Clark and those kinds of guys 30 years ago. It just reminds me of that old cowboy country and melody. We put a pretty good lyric on it.

7. Show Me What You're Workin' With
Toby Keith, Rivers Rutherford

We've got a buddy we play golf with who yells that out all the time. One day I told him, "I'm going to write that for you." It really didn't hit me as a hook or anything. I just wanted to write it for him and say, "Here, you made the album." The song actually turned out cooler than the time I put into it. I sort of had the idea and wrote it really fast. It's got some comical, catchy, tricky lyrics in it that you have to have in these kinds of songs, but the little groove on it is what stole my heart.

8. Whole Lot More Than That
Toby Keith, Bobby Pinson

That's me and Bobby on a bus run. We started spitting those lyrics out – if I'm gonna do this, I'm gonna need that – and just kept finding those over a couple days. We kind of worked the verse one day, then went and did something else and came back. I had another one and he had another one and we put them together, then we rhymed them and took it in the studio.

9. I'll Probably Be Out Fishin'
Toby Keith, Scotty Emerick

Scotty came in with the idea – "I'll probably be out fishin' when my ship comes in," and so we just started. Rivers and Bobby always lean more toward some kind of heavy groove. Unless it's a heavy ballad, it's always groove with those guys. Scotty is the one writer of the bunch who's more settled down, more towards Don Williams. So when he gets a little groove going, you know it's something. I sang the hook a few times, we got the key and we started figuring it out. We decided this ole boy's beat down pretty good, but I still want him to smile a little bit. So there's a little bit of wit there for as bad as it is. The line that ties it together is "good luck's bound to find me if it comes around again ... but I'll probably be out fishin' when my ship comes in." Can't ever get a break.

10. Hard Way To Make An Easy Living
Toby Keith, Bobby Pinson

We wrote that up in a cabin starting with some minor chords. It was one of those deals where we could just go down the neck of the guitar trying to find what chord goes next. You wind up back at one again and go, how'd we get back here? Then you start trying to write to it. I've got a friend who has about 10,000 acres and everybody thinks he's really well off. I told Bobby that people think because this guy does a million dollars' worth of ranching business and a million dollars' worth of cattle business every year that he's sitting good. But it's a hard way to make an easy living. He's got lots of bills, lots of equipment, lots of labor, and puts in lots of time. When you think about running cattle and farming 10,000 acres – you may take in million, but probably 80% of that goes right back in. And then you still have to live, do upkeep for the ranch – you're always fencing, fetching cows, trucking in equipment and working. I usually write from the hub out, but this started with the story then we worked through a chorus. Tom T. Hall style – start at the front and tell the story.

Bonus Tracks:

Call A Marine
Toby Keith

This is one of those ditties sort of like Charlie Daniels' "Uneasy Rider" crossed with "Battle Of New Orleans." It's sounds like something Ray Stevens might record ... spoken blues kind of stuff. I've got four or five things I only do on USO tours – "Ballad of Balad," "Running Block" and this is another one. They're just comical songs to put smiles on warriors' faces. I've got stuff about airmen and soldiers, but I didn't have anything for the Marines. If I'm playing a Marine base in Afghanistan and I do "American Soldier," they're like, "Big deal. I'm not a soldier, I'm a Marine." So now I've got something for them. It's a pretty clever, cute little thing.

Chuckie's Gone
Toby Keith

It's a tribute to my bass player and bandleader. He lived here in Oklahoma and died right before those massive tornadoes came through. So I started it out with that. He stood by me on my left for 25 years. "Your bass is there where you used to stand and even though we got a killer band, I still look up in the middle of the song and realize Chuckie's gone."

Margaritaville (with Sammy Hagar)

Sammy played my tornado benefit, and he was doing a duets album and asked if I'd do him a favor. Said he had a real laid back version of "Margaritaville" he wanted me to sing with him. He sent the track, I laid some lines down, he mixed it and put it on his album. When we need songs for the deluxe edition of the album, I always try to pick odd duck stuff. So we called Sammy and asked him if we could put the track on my album, too, and they said sure. So, we did.